A Non-Traditional Kennel & Grooming Salon
What makes us non-traditional compared to other kennels?  We don't lock up your fur-kids from the time they arrive until the time they go home.  In fact, the only time they are placed in our spacious kennels is when they are eating and sleeping or if we are unable to supervise them outside on beautiful days or on rainy/muddy days in our indoor play area.  We don't charge you to spend one on one time petting and loving on your pets. We give them a minimum of 5 potty breaks a day and if they need or want more, we give them more, free of charge!
There is always someone with our fur-guest, but we like to stick to a schedule and ask to please find the hours listed below for check in and check out.
Fur-Guest are welcome to come and go between…
6:15 a.m. – 8 p.m. Mondays & Wednesday
6:15 a.m. – 4:30 p.m. or at 8 p.m. on Tuesdays & Thursdays
6:15 a.m. – 6 p.m. Fridays
8 a.m. – 11 a.m. Saturdays
9 a.m. – 11 a.m. or 7 p.m. – 8 p.m. Sundays
Please keep in mind if your fur-kid(s) are getting exit baths, the earliest they can check out would be 9 am Mon – Friday & 10:00 On Saturdays & Sundays.
There are no check in or check outs on Saturdays past 11 a.m.
There are no check in or check outs on Sundays from 11 a.m. – 7 p.m.
There are no check in or check outs on Tuesdays & Thursdays from 4:30 p.m. – 8 p.m.
Holidays…
There is limited check ins & check outs on the following Holidays…
New Years Day 7 p.m. – 8 p.m.
Easter Sunday 7 p.m. – 8 p.m.
Mother's Day 7 p.m. – 8 p.m.
Memorial Day 9 a.m. – 11 a.m. or 7 p.m.- 8 p.m.
Father's Day 7 p.m. – 8 p.m.
4th of July 9 a.m. – 11 a.m.
Labor Day 9 a.m. – 11 a.m. or 7 p.m. – 8 p.m.
Thanksgiving Day No check ins or outs!
Christmas Eve 9 a.m. – 11 a.m.
Christmas Day No Check ins or outs!
New Year's Eve 9 a.m. – 11 a.m.
Our grooming salon welcomes appointments on the following days and hours.
We are happy to keep your fur-baby for the duration of your work day Mondays – Thursday to make it easier to get an appointment.
Monday 9 a.m. – 5 p.m.
Tuesday 10:30 a.m. – 4 p.m.
Wednesday 9 a.m. – 5 p.m.
Thursday 10:30 a.m. – 4 p.m.
Friday 8 – 12
Saturdays, occasionally & by appointment only
Sundays, rarely & by appointment only
Holidays, sorry there are no grooming appointments on Holidays.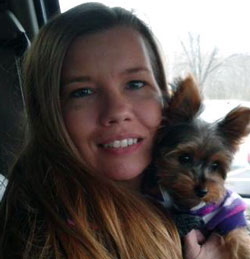 Meet Julie Hail – Owner, Groomer & Care Giver at Dog Gone Dirty, LLC.  I am the daughter of Robert "Bob" and Mary Ellen Gangloff. Originally from Delhi Township in Cincinnati, my family moved to Hidden Valley Lake in 1978 when I was just 4 years old.  I have 5 siblings, Tony, Tina, Steve, Deborah & Teresa.  We all graduated from East Central High School and together have given our parents 15 grandchildren, 6 great grandchildren and counting! However, both of our parents have passed.
My husband, Erik and I met in 1997 and have been married since 2000.  We fell in love with the idea of raising our 3 children, Courtney, Joshua and Jason in the country, so we left our home town of Lawrenceburg & built our home in Moores Hill in 2002. Both my husband and I worked as casino dealers, but always had the desire of being entrepreneurs.  In 2010, I earned a certification in dog grooming at Diamond Oaks.  In just 5 short years later I was able to leave the casino industry and focus 100% on my Dog Gone Dirty business, where it only made sense to incorporate boarding & daycare along with grooming.  We are excited to have this opportunity right at our back door!
All dogs must be flea free and current on all shots including: Bordetella (kennel cough), Rabies and DHPP. Shot records are required for day care &/or boarding, before checking in. We would like a copy of vet records and ask they be replaced each year.  A flea inspection will be administered upon arrival. If fleas are present, a flea bath will be given and additional cost will apply. If your pet has fleas, there is a good chance they have worms as well.  If worms are found in your dogs feces, you will be contacted and we will contact your vet before giving your dog a wormer.  These added expenses will transfer to your total bill when checking out.  Your pets overall health is as important to us as it is to you. Dog Gone Dirty, LLC reserves the rights to turn away any business for any reason.